Gout in a patient with Paget's disease
Beyond Rheumatology 2022; 4 (3): e441
DOI: 10.53238/br_202212_441
Topic: Paget disease Category: Case Report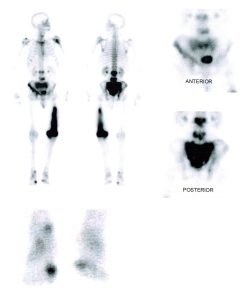 Abstract
Objective: We aimed at describing a patient with Paget's Disease (PD) who developed gout.

Case Presentation: A 65-year-old male patient with a long history of right hip pain, podagra, and knees with gait impairment and laboratory tests showing alkaline phosphatase 241 U/L (normal range: 27-100 U/L), C-reactive protein < 5 mg/L, erythrocyte sedimentation rate 34 mm 1st hour and serum uric acid 8.6 mg/dL (normal range: < 7 mg/dL) came to our private clinic. Conventional radiographies (X-ray) of the knees and spine suggested osteoarthritis (OA) with osteolytic areas highly indicative of PD, confirmed by a magnetic resonance imaging (MRI). An infusion of zoledronic acid 5 mg was performed, benzbromarone 100 mg/day and oral hydration were added. After four months, joint pain was entirely solved, alkaline phosphatase was 49 U/L, the erythrocyte sedimentation rate was 12 mm/1st hour, and uric acid was 7.8 mg/dL.

Conclusions: This article illustrates the case of a patient with PD associated with gout, with PD being successfully treated by zoledronic acid.