Intra-articular ultrasound-guided injections, description of the capsular ultrasound reference line, CURL: a new ultrasound landmark for intra-articular infiltrative therapy of the knee and the hip
Beyond Rheumatology 2022; 4 (2): e392
DOI: 10.53238/br_20228_392
Topic: Osteoarthritis Category: Original Article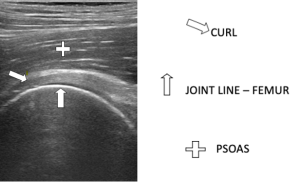 Abstract
Objective: The intra-articular infiltrations concern the direct inoculation of substances in the joint, avoiding effects related to general administration and acting directly at the site of the pathology. Injections can be guided by palpation of anatomical landmarks or by imaging. This scientific paper describes an ultrasound landmark, so-called CURL, for precise injections in the joint.

Materials and Methods: Identification of an ultrasound reference line of the capsule of large joints to perform ultrasound-guided infiltrations and comparison with results in the literature of anatomical landmark-guided infiltrations.

Results: The comparison study shows that ultrasound guidance and the ultrasound reference line of the joint capsule improve the accuracy of the procedure. The ultrasound guidance and the ultrasound landmark of the capsule, CURL, allow the precise introduction of medicinal substances into the joint, regardless of the condition of the joint cavity, "dry" arthritis or hydrarthrosis.

Conclusions: The definition of an original ultrasound reference for hip and knee joints, the routine ultrasound study and the ultrasound guidance make the infiltrative technique a high-quality orthopedic practice.
To cite this article
Intra-articular ultrasound-guided injections, description of the capsular ultrasound reference line, CURL: a new ultrasound landmark for intra-articular infiltrative therapy of the knee and the hip
Beyond Rheumatology 2022; 4 (2): e392
DOI: 10.53238/br_20228_392
Publication History
Submission date: 15 Jun 2022
Revised on: 26 Jul 2022
Accepted on: 01 Aug 2022
Published online: 04 Aug 2022
This work is licensed under a
Creative Commons Attribution-NonCommercial-ShareAlike 4.0 International License
.